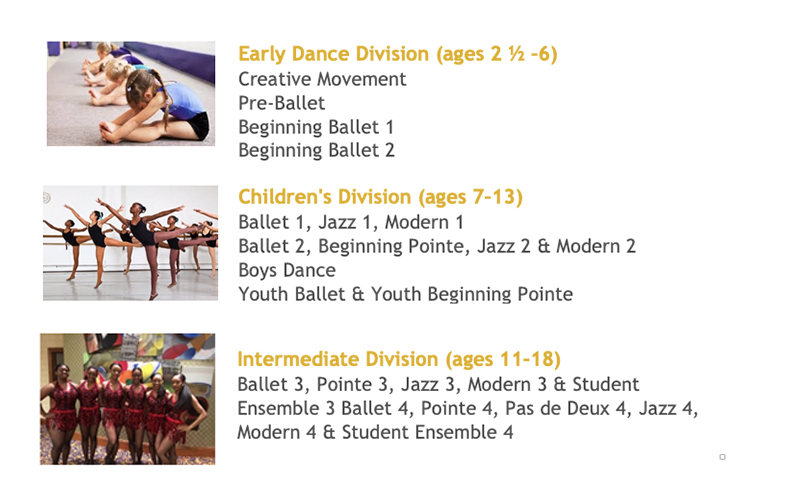 Creative Movement for Ages 2.5-5
In a fun and encouraging environment, students explore musicality, rhythm, creativity and movement through space. This class introduces age appropriate stretching, basic strengthening, balance, motor skill development and coordination.
This class introduces classical ballet vocabulary, emphasizing musicality and individual creative expression in an innovative, fun and easy to learn manner.
Beginning Ballet A for Ages 6-7
Fundamental exercises of ballet are introduced while maintaining an emphasis on musicality, development of overall body strength, alignment and the enjoyment of moving. Students expand their knowledge of French ballet terminology at this level.
Beginning Ballet B for Ages 7-8
Students build upon their basic understanding of ballet positions, exercises and terminology. Class focus on musicality, overall body strength and alignment in preparation for Ballet 1.
Jazz/Hip Hop for Ages 9-12
This class builds on the basic jazz vocabulary and technique introduced in all Jazz classes. Students learn rhythm, syncopation, isolation and improvisation. Strength, flexibility endurance and coordination are increased. Hip Hop introduces students to the latest styles in the Commercial Dance.
Students learn specific movement vocabulary from the major modern dance techniques, such as Horton, Limon, Dunham and Graham. Complexity in movement combinations is developed along with a more expansive use of space.
Beginning Pointe for Ages 10-12
This class builds the articulation of the feet and ankles while also building physical strength. This is the foundation that supports more advanced work in the higher levels. Students also learn how to select and care for their pointe shoes.
Youth Ballet for Ages 10-13
A traditionally structured ballet class for students with little or no ballet experience. Class emphasizes musicality, joy of movement, body alignment, overall strengthening and fun combinations while introducing the French terminology of ballet.
(Required Two Days per Week Training)
Boy's Dance for Ages 7-10
A class for young men to explore the art of dance in an all-male environment. Strengthening, stretching, muscle coordination and musicality are all emphasized through a variety of dance styles. Open to boys ages 7-10 by audition only. Previous dance experience not required.
(Required Two Days per Week Training)